AMADOR CITY ~ California's Smallest Hometown, Incorporated 1915
City Hall is temporarily closed. Please contact Joyce Davidson, City Clerk, with immediate needs.
209-268-6910 or city.clerk@amador-city.com
"If you like Gold Country towns with history, charm and a sense of being buffered from the noisy outside world, Amador City is as good as it gets."
Peter Fish, San Francisco Chronicle
Welcome to Amador City, a charming gold rush town located between Sutter Creek and Plymouth and just minutes from the Shenandoah Valley wine region along historic Highway 49 in California's Gold Country.
One of California's smallest incorporated cities, settled in 1853 and incorporated in 1915, with a population of just over 200 residents. Amador City has a total area of 0.3 square miles (0.78 km2), all of which is land, making it the smallest city in California by size. Amador City is a little city with a lot to offer.
The original mining-era buildings are now home to unique shops, restaurants, an artisan bakery and the Imperial Hotel, Saloon & Restaurant (circa 1878) affords visitors an opportunity to stay the night and enjoy Amador City's historic Gold Country way of life.
Please join our EMERGENCY CONTACT LIST
by using the button below.
(2 minutes to fill out the form)
VISIT AMADOR CITY
In addition, visitors to Amador City can enjoy biking and walking the back roads with miles of tree-lined creeks, old mining head frames, rock walls and foundations.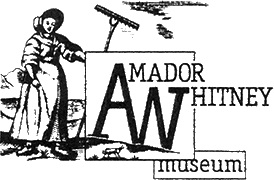 The town provides a self-guided historical walking tour including two gold mining era cemeteries. The Whitney Museum (open 11-3 on weekends) retells the story of Amador City at the peak of the Gold Rush with many artifacts and something of interest to the entire family.
There are also many wineries in the nearby Shenandoah Valley, fishing at many nearby lakes and rivers as well as golfing and gold panning and camping.
GeoCaching and GeoTracking are also popular past times. There are many "spots" in and around both Amador City and Amador County.
Enjoy the Gallery of Photos below by local photographer and City Council Member, Bruce Smith.